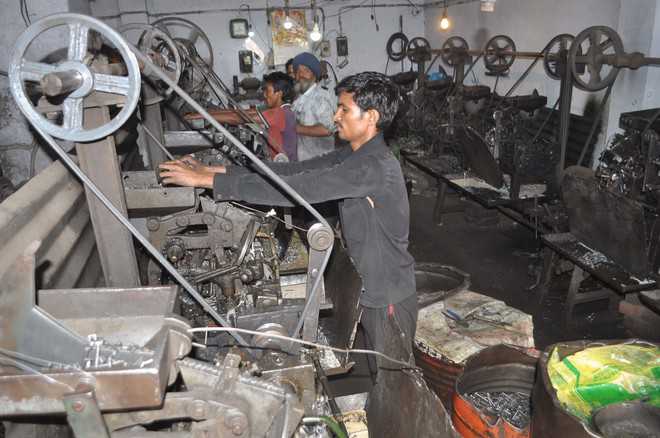 Neeraj Bagga
Tribune News Service
Amritsar
Fed up with the Centre for not focusing on research and development(R&D), lopsided implementation of demonetisation and the GST, members of the local wood screw, nut and bolt, and allied manufacturing industries are likely to express their anguish against the NDA government in the Lok Sabha election.
A leading manufacturer of screw, nut and bolt, Samir Goel of Narayan Steel said: "The industry is still battling the crisis generated after the demonetisation. He said the impact of the GST would finish after its complete compliance.
It is pertinent to mention here that the city is a leader in the manufacturing of wood screws in the country.
The city is fast losing its status of leader in the industry to China.
Post demonetisation and GST, nearly half of the 400 units in the sector had perished. Thousands of people working in these industries have lost their jobs. Since most of the units here fall in the cottage industry category, they were unable to withstand the major transition phase, he observed.
Another factory owner Rinku Singh said most of the labourers engaged in the profession were rendered unemployed. He added that proprietors of the manufacturing units in the trade turned traders.
He wondered that the government never bothered to assist the cottage industry in the R&D.
The annual turnover of the nut-bolt industry is about Rs 30 crore.
The local industry is facing stiff competition from China. He said locally manufactured nails and screws were available at Rs 115 and Chinese at about Rs 145. The latter is preferred for its hardness, finishing and strength.
Baljit Singh, a skilled artisan, who was rendered unemployed said he was fortunate to find the job in other industry after the unit in which he was working shut down. He added that all artisans were not fortunate to get job. So, in search of jobs they are moving to other cities and some are going abroad. overseas by arranging loans.
["source=tribuneindia"]